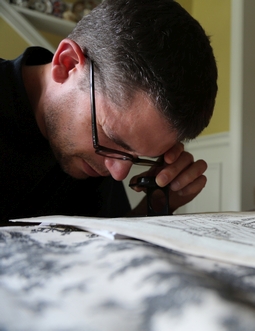 Andrew Steeves was born in Westmorland County, New Brunswick. After taking
degrees in Criminology and English, he settled near Kentville, Nova Scotia, and
founded Gaspereau Press in 1997 (with Gary Dunfield). He spends his time
reading, writing, editing, designing, typesetting, printing, binding,
marketing, selling and talking about books. As an author, his most recent
publication is Smoke Proofs: Essays on Literary Publishing, Printing and
Typography.