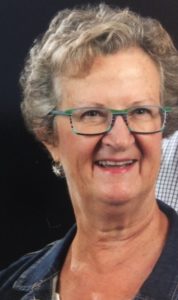 Susan grew up in Ste Anne du Ruisseau (also known as Lower Eel Brook) in Yarmouth County, NS, where her family has lived for 7 generations. You may know her from her most recent employment as an interpreter at Grand-Pré National Historic Site.
In 2004 she wrote the booklet "Return to Acadie. A Self-Guided Memory Walk of the Annapolis Valley" as a tool for anyone interested in discovering the Annapolis Valley from an Acadian perspective. Whether people have downloaded it from the website of Les Amis de Grand-Pré www.amis-de-grand-pre.ca or have a hard copy, it is still providing useful information to searchers.
For the last 10 years, Susan has been the president of Les Amis de Grand-Pré. Susan is presently finishing a second book, tentatively called Refuge, which promises to shine a light on a little-known Acadian story of survival, in a very personal way. In the summer you can find her in her garden or heading off to paint en Plein Air.
Her blog: travelswithsuze.wordpress.com has suffered from lack of attention lately but you can still read her personal stories animated by Acadian landscapes, whether they be found in Atlantic Canada, Québec, France or England.