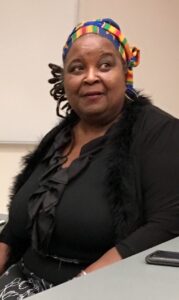 Dr. Gladys Lynn Jones (who goes by Lynn) is an African-Canadian woman born and raised in Truro, Nova Scotia, later moving to Halifax to pursue higher education. Lynn has been a life-long civil and human rights activist, an educator, a community archivist, community and labour organizer, and an inspiring speaker.
She pursued a long formal working career in the Federal Public Service of Canada. During this time, Lynn became an active trade union member and advocate, and became the first Black person to join the executive ranks of the Canadian Labour Congress (CLC). She was also a National Vice-President of the Canadian Employment and Immigration Union (CEIU). As part of the CLC delegation, in 1994, Lynn traveled to South Africa as an election observer in the first free elections (which saw the election of Nelson Mandela). In 1993 Lynn became the first Canadian-born African Canadian women to run in a Canadian Federal Election, as the New Democratic Party (NDP) candidate in the Halifax riding.
Throughout her life, Lynn has been active in the pursuit of justice, working tireless for many causes and organizations that seek to eradicate racism, secure human rights, and achieve fair labour practices. She has been honoured with many awards including the Queen's Medal, the Congress of Black Women of Canada's Women of Excellence award, 100 Black Women of Canada Award and the Nova Scotia Federation of Labour Human Rights Award. In 2016, she was recognized with an Honorary Doctorate from Acadia University and in 2021 she was awarded a second honorary doctorate from Mount Saint Vincent University.
 Lynn is currently the Chair of the Global African Congress (Nova Scotia Chapter), which seeks reparations for the Trans Atlantic Slave Trade and other injustices and whose organization published the ground-breaking book authored by children they engaged called "R is for Reparations, Young activists speak their truth." Dr Lynn Jones is presently providing leadership in the creation and development of "DownTheMarsh," one of two Nova Scotian first Community Land Trusts. It is located on "The Marsh," the historically Black neighbourhood she grew up in in Truro, Nova Scotia. The intent is to reverse a long trend of gentrification that led to an exodus of Black families. The Land Trust will create affordable housing on lots Lynn has held for decades with the intention of putting them to good use for her community.
Another of Lynn's passions has been the concern of eradicating environmental racism. This is sparked by her awareness that dumps and toxic waste sites are disproportionately located next to African-Canadian and First Nations communities, close to the homes of the economically disadvantaged, socially excluded and the powerless. In 1995, as Vice-President of the Canadian Labour Congress (CLC), she pushed for a chapter on this crucial topic in the first – and only – National anti-racism report by unions and their communities in Canada which she co-chaired. She has continued advocating for a stop to environmental racism up to present day and hopes to witness passing of the first law in Canada which addresses environmental racism and justice (presently in the Senate) and which she helped craft its precursor.
She was one of 4 African Nova Scotian women who created a wildly successful fund to support Black families struggling during the pandemic. She is an elder within the African Nova Scotian community and a mentor to many Black women in Nova Scotia and beyond. She is currently involved in multiple activities including the demand for Reparations.