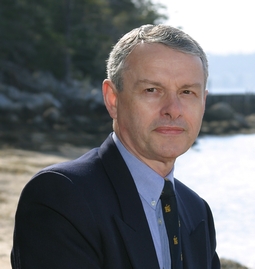 John Boileau served in the Canadian Army for 37 years, retiring as a colonel in 1999. During his army career, he was stationed across Canada and in the United States, the United Kingdom, Germany and Cyprus, in various command, staff and training appointments. He is a graduate of the University of New Brunswick, the United States Army Armour Officer Advanced Course, the Canadian Forces Command and Staff College, the British Army Staff College and the British Royal College of Defence Studies. During his last five years of service he was Military Attaché at the Canadian High Commission, London, England, and was also accredited as Canada's first Military Attaché to the Republic of Ireland.
In retirement, John commenced a second career as a writer and has authored hundreds of magazine and newspaper articles, as well as 13 books, including Samuel Cunard: Nova Scotia's Master of the North Atlantic; Half-Hearted Enemies: Nova Scotia, New England and the War of 1812; Valiant Hearts: Atlantic Canada and the Victoria Cross; The Peaceful Revolution: 250 Years of Democracy in Nova Scotia; Halifax and The Royal Canadian Navy; Halifax and Titanic; Old Enough to Fight: Canada's Boy Soldiers in the First World War and Too Young to Die: Canada's Boy Soldiers, Sailors and Airmen in the Second World War. His latest book, 6/12/17: The Halifax Explosion was released earlier this year.
John is a serving Governor and Past Chairman of the Nova Scotia Division of the Canadian Corps of Commissionaires. He is also a director or member of several volunteer organizations and is the founding Chairman of the recently-formed Halifax Military Heritage Preservation Society. He has been the Honorary Colonel of the Halifax Rifles (RCAC) since 2010 and in that role is the 36 Canadian Brigade Group (Nova Scotia-Prince Edward Island) representative on the Honorary Colonels National Executive Council, as well as Vice Chairman of the Council. In December 2012, the Lieutenant-Governor of Nova Scotia presented John with the Queen Elizabeth II Diamond Jubilee Medal for his contributions to the history and heritage of the province, and in October 2016 honoured him with a Vice-Regal Commendation to recognize his role in advising the Lieutenant Governor and his office on various commemorations and anniversaries relating to the War of 1812 and the First World War.